Tamara Moskvina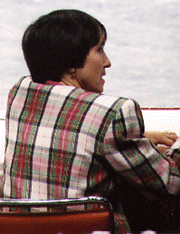 On June 26, 1941, Tamara Moskvina was born in Leningrad, USSR. Moskvina was a talented skater, both ladies and pairs, and skated for the Soviet Team for seventeen years. Her pairs partner was Alexei Mishin, who also coaches.
Accomplishments as a Skater:
USSR Pairs National Champion twice
USSR Ladies National Champion five times
1968 Olympics-fourth
1969 World Championships-second
Other Accomplishments:
Ph.D. in Education Science
Served in College of Physical Culture in Russia
Two state awards for coaching
27 years of experience coaching
Served as a judge in professional championships
Started a skating school
Pairs Train(ed) by Moskvina:
Elena Valova and Oleg Vasiliev
Elena Bechke and Denis Petrov
Oksana Kazakova and Artur Dmitriev
Natalia Mishkutenok and Artur Dmitriev
Elena Berezhnaya and Anton Sikharulidze
Moskvina's husband, Igor Moskvin, is also a skating coach. The mother of two daughters, Moskvina currently lives in St. Petersburg, Russia, and trains pairs skaters at the Yubileiny Sports Center.

|Main Page| |Info&Competitive Record|
|Latest News&Schedule| | Photos&Multimedia| | Feedback/Interactive&Site Info|