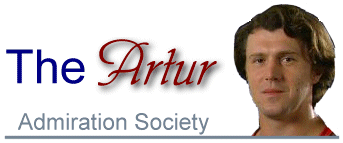 "I am already Olympic champion. Now I must do something for Oksana."

-Artur Dmitriev, before the Nagano Winter Olympics

The something was an Olympic gold medal. On February 10, 1998, Artur Dmitriev skated into Olympic history, becoming the only man to win two Olympic gold medals with two different partners. Three years into their partnership, the deep respect between Artur and his current partner, Oksana Kazakova, becomes apparent at the end of each program when Artur gallantly kisses Oksana's hand. At age thirty, Artur is a seasoned performer, bringing drama and passion to pairs skating which is unmatched by younger skaters. This page is for fans of Artur to meet each other and tell why you love him :)

You can join Artur fans at Figure Skating World for "Artur & Yubileiny Skaters" chat, Saturday nights at 10 EST. You need to be registered (free) at FSW in order to chat.


Join!


Current Members


Quotes


Links

Credits
DCB wrote the first draft of the opening paragraph.
Therese got everyone started on the topic of Artur at FSW.
Suzanne came up with the name, "Artur Admiration Society."
Kate has a great Kazakova & Dmitriev Site.
Thanks everyone!


Webmaster: Jen, vball101@hotmail.com